General Professional Capabilities – Summary
The General Medical Council (GMC) recognises that there are key aspects of doctors' performance which apply to all postgraduate specialities and are essential to performing competently as a doctor. The GMC also recognises that there is a need to have a consistent approach to common generic outcomes across all postgraduate medical curricula.
The GMC guidance is a set of features termed Generic Professional Capabilities which have a framework of principles and professional responsibilities as set out in Good Medical Practice. All postgraduate medical curricula must include all Generic Professional Capabilities.
The Generic Professional Capabilities has three fundamental domains;
Professional values and behaviour
Professional skills
Professional knowledge
There are also six further themed domains; these domain headings were selected to prioritise particular areas of clinical practice and give clarity and structure for curriculum development.
These domains are;
Patient safety and quality improvement
Health Promotion and illness prevention
Education and training
Leadership and team working
Research & scholarship
Safeguarding vulnerable groups
The domains are interdependent, as shown in the diagram below.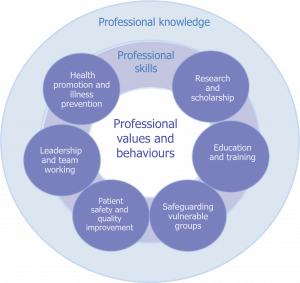 Diagram of Framework of Generic Professional Capabilities showing 9 domains.
Further information can be found in GMC's document; Generic Professional Capabilities Framework.
Last modified: 21 December 2020