Occupational Health 2020 – Save the date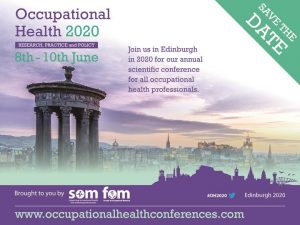 Registration is now open for the annual Occupational Health 2020 conference brought to you by the Faculty of Occupational Medicine and the Society of Occupational Medicine.
The event will take place from 8th – 10th June at The Royal College of Physicians of Edinburgh.
The programme will feature a wide range of themes and offer delegates a busy mix of keynote lectures, parallel sessions led by experts and oral and poster presentations.
With an optional social event each evening, including a gala dinner and a line-up of workplace visits on 8th June, this conference offers numerous unique educational and networking opportunities.
The full programme and registration details will soon be available, please visit the official Occupational Health 2020 website.