Two new Examinations and Training roles at FOM
The Faculty of Occupational Medicine (FOM) has two roles in our Examinations and Training Department.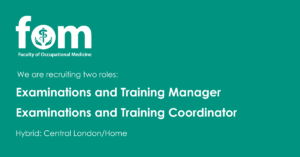 Please see a brief outline of each role with links to find out more, download the job description and person specification and apply:
Examinations and Training Manager – to provide leadership to the staff team as well as supporting senior colleagues to ensure the high quality delivery of our examinations.
https://jobs.theguardian.com/job/8673916/examinations-and-training-manager/?LinkSource=HomePage
Examinations and Training Coordinator – to support the administration and delivery of our examination training provision.
https://jobs.theguardian.com/job/8675918/examinations-and-training-coordinator/?LinkSource=HomePage
Both roles are hybrid, based partly at our office in central London and partly from home.