FOM publications
The Faculty produces, and regularly updates, a range of publications on occupational health and medicine. These include publications on hand arm vibration syndrome and back pain, the authoritative Guidance on Ethics for Occupational Physicians, the Faculty's major publication, Fitness for Work and Occupational and Environmental Medicine, the Faculty's adopted journal.
---
Good Occupational Medicine Practice 2017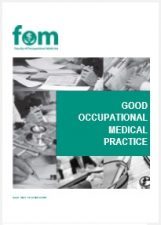 GOMP sets down standards of good practice for occupational physicians and is based on Good Medical Practice (2013, amended in 29th April 2014) in which the GMC defines the standards, conduct and behaviour expected of all doctors. It updates and supersedes earlier guidance by the Faculty of Occupational Medicine (Good Occupational Medical Practice 2010).
---
Ethics Guidance for Occupational Health 2018
| | SKU | Price | |
| --- | --- | --- | --- |
| | TP002 | £35.00 | |
---
Warning: Invalid argument supplied for foreach() in /var/www/vhosts/fom.ac.uk/httpdocs/wp-content/themes/fom2014/template-publications.php on line 160