Briefing
The new FOM curriculum
This briefing webpage provides a summary of the proposed new FOM Curriculum as of 2022, for the purposes of stakeholder consultation only.
Please note that the approach outlined and the content shared is still subject to change, and must not be considered 'final' until the Faculty confirms the FOM curriculum and Curriculum Guidance have been approved by the General Medical Council (GMC). This isn't expected to be until early 2022.
Background
This new FOM Curriculum has been designed to better meet the needs of both doctors and their patients.  Several key principles have guided this development:
Ensuring that the FOM curriculum not only covers the skills and knowledge to be a safe, competent doctor, but also that trainees are adequately prepared before taking on a Consultant role with the different skills set and challenges that requires.
Providing a curriculum that is better fit for purpose by being simplified and more user friendly. Allowing for more personalised training approaches and increased flexibility.
To meet the GMC requirements for post graduate medical education found in Excellence by Design (2017)
With this in mind, we decided to move from a competency to an outcomes based framework, bringing the FOM curriculum in line with the GMC requirements. Rather than a long list of competences which all trainees 'must' demonstrate, we are moving to look more holistically at what it actually means to be capable in all core areas of practice.
New structure
We have used the Generic Professional Capabilities (GPCs) published by the GMC as the basis for the new FOM Curriculum, identifying 11 domains:
Professional values and behaviours
Professional skills and knowledge: communication
Professional skills and knowledge: clinical practice
Professional skills and knowledge: workplace risk
Health promotion and illness prevention
Leadership and team working
Patient safety
Quality improvement
Safeguarding
Education and training
Research
For each of these domains, there is a defined Learning Outcome. Supervisors will need to make a holistic judgement against each Learning Outcome to determine whether the trainee is yet at that point of achievement.
Curriculum Guidance
A supporting Curriculum Guidance document provides the context for each Learning Outcome, and comprises a list of skills or knowledge that help demonstrate achievement of the Learning Outcome.  The working title for these is 'capabilities'– we are moving away from calling them competencies as feedback is that if we don't change the terminology there will be no change of approach.
Some of these are mandatory (Professional Capabilities), for example where it is absolutely critical that we have robust evidence that the trainee can carry out a specific aspect of training.  The majority are examples (Illustrations), which provide the trainee with examples of evidence which may support achievement of the Learning Outcome or add enrichment to the learning programme and trainee experience.  Trainees are expected to ensure they have a sample of evidence from across this list, but the depth and breadth of coverage and how they evidence it may vary from trainee to trainee.  This will provide greater flexibility to suit the post, site and specialist interest of the trainee. The supervisor will support the trainee working on this.
Whilst the new FOM Curriculum must have GMC approval prior to any changes, the Curriculum Guidance document will be a FOM governed document.  We will have a robust internal governance process allowing us to invite, consider and implement changes annually to ensure that it remains fit for purpose.
Assessment
The FOM Assessment Strategy is still under review and consultation, although likely to be similar to the current strategy, incorporating a mixture of examinations and a range of workplace based assessments and written evidence of research skills.
Some guidance will be provided within each part of the Curriculum Guidance document giving suggestions as to which assessments will be most appropriate in developing and evidencing their skills for that particular Learning Outcome.  There will also be blueprinting, indicating how the Curriculum Guidance corresponds to the exams.
The draft proposed learning outcomes are summarised here;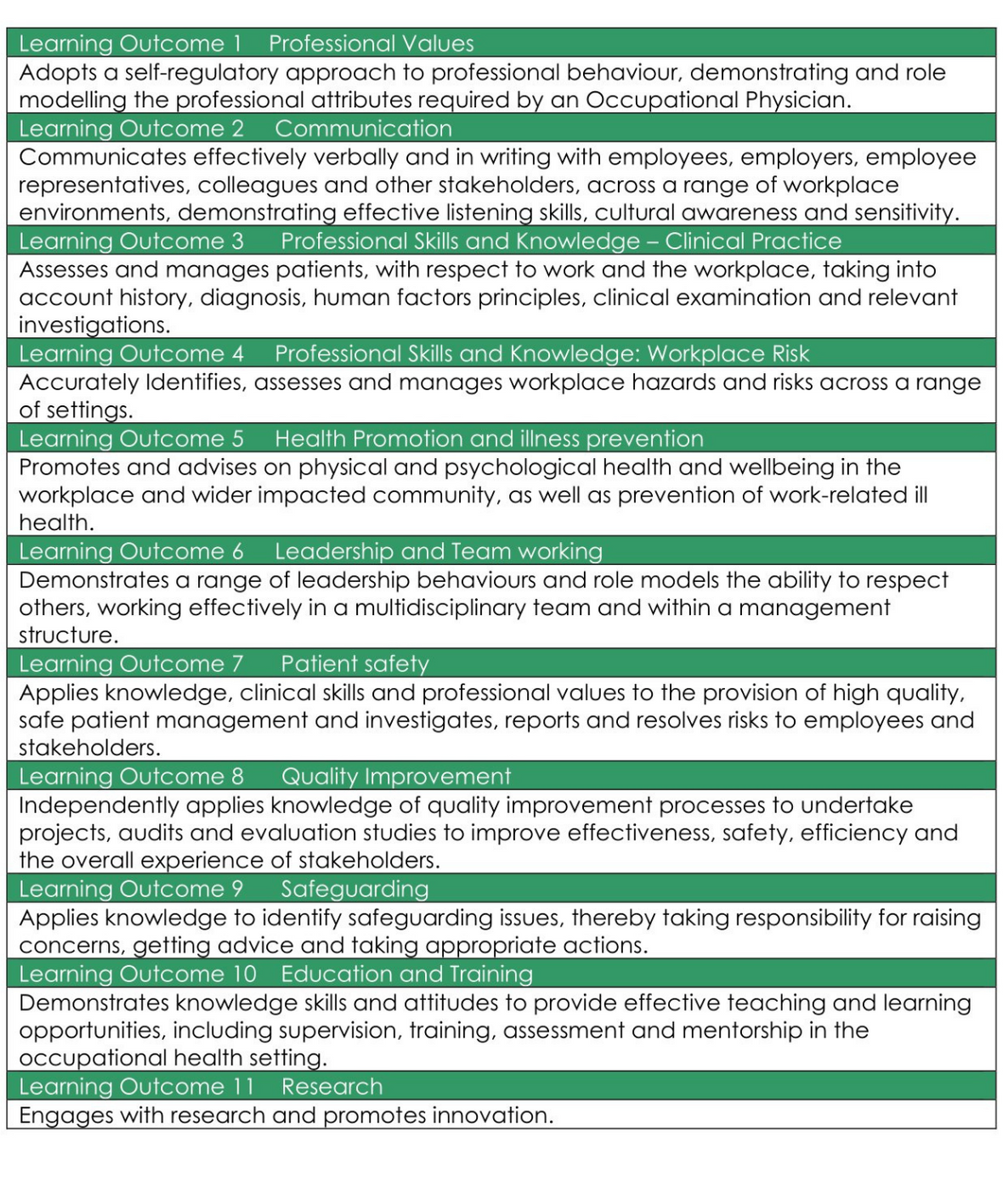 A more detailed list of the 11 Learning Outcomes, with the supporting Professional Capabilities relevant to Occupational Medicine is available here.
Any comments and questions on the format of the new curriculum are very welcome; please email Curriculum@FOM.ac.uk
Last modified: 21 December 2020